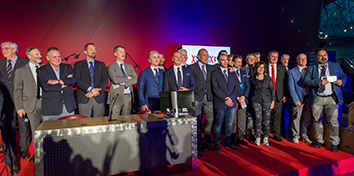 AWARDS 2018
The most recent Awards, those of 2018, awarded four categories. In the first and solid wood processing Paolino Bacci Srl was placed in first position with the MasterMax with the following motivation: the machine combines productivity and flexibility for the production of complex parts, included curved ones, featuring an original workpiece clamping system. Working Process and Scm Group followed.
In the section "Panel processing" Vitap - Industrial Technological Machines was awarded first prize with the K2 2.0 model with the following motivation: This ultra-compact machine can execute operations on six faces of a panel, including shaped milling thanks to an innovative floating pressure bar. Second and third position for HECHT Electronic and Biesse Group.
In the "Finishing" New Finishing Srl triumphed for a high-flexibility system that can coat frames, doors and windows in continuous mode through a self-teaching process with ICA Spa and Scm Group respectively second and third.
The last category, that of tools, saw SCM Group in the first position for a group for edgebanding machine aggregate that combines end cutting and rounding operations, executed with one tool, allowing to design machines with small footprint". Seconds and thirds Biesse Spa and Oertli.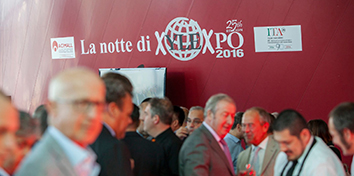 AWARDS 2016
We continue our journey through the Awards that characterized Xylexpo in recent years: In 2016 there were even 3 categories: first processing and transformation of solid wood, panel processing and finishing.

Maurizio Riva, co-owner of Riva1920 and testimonial of Xylexpo 2016, awarded the winners of the "Primary operation and solid wood processing" category with prizes taken from his own collection, like all prizes selected by the organizers for the award winners.
The first prize went to Griggio from Reschigliano di Campodarsego (Padua) for "Unica Safe", a blade retraction system with 5-millisecond reaction time, sensitive to human body conductivity for the effective prevention of accidents and injuries. The justification states: "A significant concept for operator safety, applying more efficient alternatives to previous similar solutions, specifically designed for small and medium businesses".
The second place was assigned to Imal from San Damaso (Modena) for "Fbc200", a blister classifier designed to detect defects in different types of panels, especially particleboard, Mdf and Osb. The justification: "Enhancement of an existing solution offering higher performance: expanded detection area, monitoring resolution, self-teaching".
At number three, "Superangle 600" by Salvador from San Vendemiano (Treviso), a line for the production of sofas that integrates cutting, beveling and boring operations.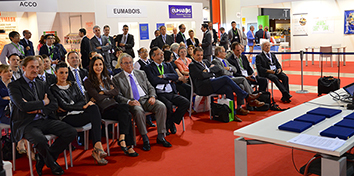 AWARDS 2014
"INNOVATION" CATEGORY
Let's retrace the short but intense history of the Awards that characterized the last editions of Xylexpo. In 2014, prizes were awarded for two categories: first of all, the ability shown by companies to innovate products, with particular attention to the issues of the "green economy", and the impact on the production processes of their customers.
Homag Group won For their capacity to innovate both big "batch one" lines and "standalone" machines, for the implementation of revolutionary technology (such as laser edgebanding), while ensuring utmost user friendliness and great attention to "green economy" topics.
Biesse was placed in second place with the following motivation: a constant commitment to working center innovation, characterized by some significant steps, such as the invention of "multicenter" for window production, or more recently, the "AirForce" hot-air edgebanding method.
Cefla took the third place justified by the jury: A route that has led Cefla Finishing Group to the top of the global painting and finishing industry, proving excellent capacity to apply innovation in digital printing processes and "poor" surface finishing, with the "Inert coating" and "Fusion coating" technology.
The second category awarded during the event was dedicated to Communication which we will resume in the next post!
"COMMUNICATION" CATEGORY
In 2014, in addition to Innovation, the companies in the Communication category were awarded, that is the commitment to communicate a way of "being an enterprise", which can include online and offline activities, specific focus on social media, highly effective advertising campaigns, attention and consistent approach to media representatives.
The first position was occupied by the Salvador company with Christian who received the award for the occasion; the jury underlined the ability to approach communication tools in an emotional way.
Homag Group was placed in second position with a powerful, accurate, clear and exhaustive communication, deployed across all channels, with growing attention to the web and visual tools, supported by in-house events and major exhibitions around the world, offering significant meeting opportunities with operators, customers, resellers, communication people.
The podium was closed by Biesse Group which has always been standing out for their strong focus on all types of communications: from the organization of "Biesse Inside", which has become a reference for any open-house event, to the creation of a strong, distinctive, never banal corporate image.